I've re-made the compost temp sensors to conform to our original design of stabbing probes.  I was having difficulty choosing a non-conductive housing for the  probes that could give accurate measurements along its length,  until I remembered that my favorite plastic, polyethylene, is mostly transparent to infrared.  Duh, that's why I make solar balloons out it!  So here is the new probe design, PEX (cross-linked polyethylene pipe) housing three sensors along its length.  I'm going to make more stabbing probes to create a profile of the pile temperature.
My first sensors were ugly scratched circuits, but these are beautiful little printed circuits. Thanks to Don for making excellent Eagle files, and Laen and Dorkbot's bulk PCB order.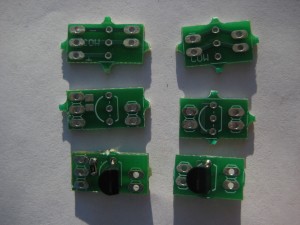 Want to print your own? Download the Eagle files here.
Want to run the arduino sketch? Code here.
Making the Probe
In order to seal one end of the PEX and make it sharp enough to stab through a compost pile, I crimped and heat-sealed one end.  At first I tried using hot pliers, a method that's worked for me with HDPE, but PEX get's rubbery and then brittle at high temperatures, so I ended up crimping it cold and then holding it with pliers over an electric stove (yes, Mom, I opened a window).  Once hot and sealed I removed it from the heat and held it as it cooled.  I then inserted my probes on a wire and sealed the end with hot-melt glue.
A Weather-Proofed Arduino Housing
Previously my Arduino was housed in the garage, but I wanted to put it out in a weather-proof container.  Polyethylene (yogurt containers) to the rescue again!  We eat a lot of yogurt at our house, so I built this housing out of one 64oz and one 32oz yogurt container and some tape.  It aught to keep the Arduino far away from precipitation.