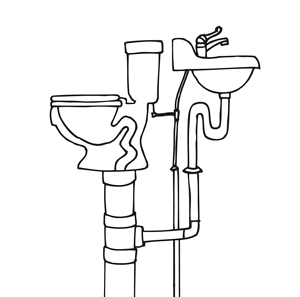 Mat & I will be talking this Saturday at Project Grow about why bathrooms are disgusting and hazardous to both you and the environment. We will share our vision and prototypes for bathrooms that won't kill you or your groundwater.
the talk is entitled: Bathrooms are Gross, so we're Redesigning Them.
6-9pm at 2156 N Williams Ave on Saturday March 24th.

Our Motivation:
We want to live in a society where people view themselves as a positive part of their ecosystem.  We want to look out our door and see our contributions to a more bountiful world.  We aren't interested in distant wilderness held in reserve, we want a concrete environmental culture and a verdant ecology in our urban home.  For such a culture to grow from our present one, we must break down the mental division of built and natural environments, and reframe our understanding of waste.  These two changes go hand in hand, as reconceiving of waste as a resource necessarily involves an integration of more biological systems into our built environment.
More than any other issue, the handling of human excrement defies the logic of reductionism. Our excrement is the waste most intimately ours and also the waste we are least able to limit; we can't reduce it and its production is not a choice.  It is also a valuable source of nutrients crucial to soil health and structure.  Combining inevitability, intimacy, and ecological value, the problem of excrement is situated directly between our artificial boundaries of human and natural environments.  Unraveling these interconnections and demonstrating a new positive human ecology is the key to understanding our place in our environment, and deconstructing our systemic problems of waste.  Ecological Sanitation is more than simply environmentally conscious sanitation, it is a powerful model for re-imagining ourselves as a keystone species and positive ecological actors.